I'm really sorry to say that Terry Lovejoy has unexpectedly had to cancel his time at this years event. He sends his apologies and says he hopes to return again next year.
We only just found out so I've had my thinking cap on for a few days and I sat down and wrote down a list of astronomers I could think of  who would be able to speak to us all along a similar theme – the amateur contribution to astronomy. Lovejoy's discovery of six comets is a wonderful story both technically and for it's pure aspiration.
As I looked down at my list one name kept bubbling to the top for his skill and talent, his unique story and his similar contribution to the field from his backyard. So I reached out.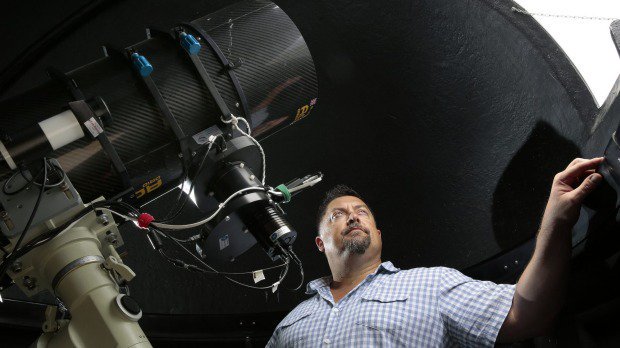 Michael Sidonio AKA Strongman Mike
I'd spoken to "Strongman Mike" just recently on the phone about his discovery of a stellar nebula emission around the R Aquarii symbiotic star system, an amazing discovery for an amateur astronomer perhaps eclipsed only by the fact that he has already discovered a previously unknown galaxy – NGC253-dw2 – in 2016 which also resulted in a published scientific paper!
The range of speakers at Star Stuff II is incredible – but hearing first hand from Michael Sidonio about his journey from leading the Australian Strongman team to making significant waves in the astronomy community is going to be incredibly special and I'm so happy he said yes at such short notice!
If you've ever posted an astrophoto to Ice in Space, the Southern Hemisphere's largest astronomy forums you've probably already talked to Mike online and remember him as being warm and supportive despite his stature in the community. He's award winning and considered one of Australia's Top 10 astrophotographers, though I'd say he's close to the top of that list. Just look at some of his images!